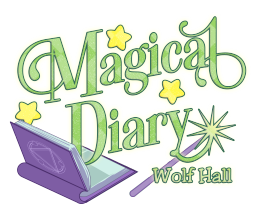 Magical Diary: Wolf Hall
New scenes added, also:
* Initialize exam5_lightning_trap.
* Exam1 dungeon_free() call moved after the vine/sparkle HP check.
* dungeon_free() no longer crashes clearing party.
* dungeon_can_act() now returns False when called outside the dungeon.
* Assigning quickspells now brings up a notification with an undo button. This
makes a bug where the end of the quick-cast bar is automatically filled in if
it's empty more obvious.
* Custom Seal message for Lava.
* Custom Freeze message for Lava and Floors.
* Cooled lava now pale grey.
* A crash when a wall gets killed fixed.
* No longer fall out of the dungeon when you Communicate with the wolf a second time in exam5.
* Crash unlocking trophies fixed.
* Sealing lava should no longer crash.
* Debug messages trimmed.
* Jacob autotalker has cleaner error reporting.
* Giving up in exam5 should no longer take you to BUG: This line is supposed
to be unreachable.
* The wolf should now growl when you pick up the medallion.
* Play good sound effect when you get the medallion.
* Painful Lessons now correctly sets the flag for detention after exam5.
Files
Windows Version - Early Access
182 MB
Version 0.6.22.1
Jun 30, 2019
Mac Version - Early Access
181 MB
Version 0.6.22.1
Jun 30, 2019
Linux Version - Early Access
188 MB
Version 0.6.22.1
Jun 30, 2019
Get Magical Diary: Wolf Hall